Obvestite študenta o možnostih notranjega napredovanja in dodatnega usposabljanja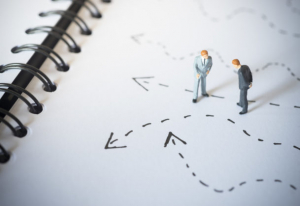 Ta del bo razložil pomen informiranja študenta o različnih poklicnih in izobraževalnih možnostih v podjetju, kar je neposredno povezano s splošno motivacijo študenta in postavljanjem ciljev za načrt mentorstva.
Morda se sprašujete, zakaj je pomembno, da študenta obveščate o internem napredovanju in možnostih nadaljnjega usposabljanja, a tako kot zaposleni v podjetju morda iščejo različne poklicne možnosti v prihodnosti, to velja tudi za študente.
Pot do sanjskega dela med praktičnim izobraževanjem bi lahko bila taka:
V prvem pogovoru s študentom se moramo prepričati, ali že ima sanjsko službo. Če ne, potem morate ugotoviti, kaj je študentu najbolj všeč, na primer nekateri imajo radi pisarniška dela, drugi želijo iti ven, spoznavati stranke, potovati itd.
Ko ugotovite, da je možen sanjski položaj študenta v vašem podjetju, mu dajte nekaj časa, da bo v ustreznem oddelku/področju dela. Po enem tednu bi lahko imeli sestanek s povratnimi informacijami, na katerem bi razpravljali o njihovem mnenju o njihovih izkušnjah. Ko menijo, da primanjkuje znanja na nekaterih področjih, na primer posebne programske opreme ali jezikovnih veščin, zagotovijo dodatno usposabljanje k načrtu mentorstva-praktičnega izobraževanja, da bi študenta dodatno podprli in motivirali. Pomembno je, da med praktičnim izobraževanjem določimo pravi čas za povečanje zahtevnosti nalog. To mora biti organski proces korak za korakom.
Študent mora imeti možnost podati povratne informacije ne le o svojih dosežkih, ampak tudi o vprašanjih znotraj oddelka. Poslušajte njihov prispevek, njihove ideje – na primer o tem, kako spremeniti nekatere trenutne delovne tokove – in dober odgovor na to bi bil: »Poskusi!
Ta video pojasnjuje, zakaj je pomembno, da študenta obvestimo o možni prihodnji karieri in možnostih usposabljanja v podjetju:
Mentortrain video 6.4  (trajanje: 4:53)
Da bi zagotovili dober pregled nad različnimi oddelki in njihovimi nalogami, je nujno organizirati ogled organizacije;
Posvetujte se s študentom, da ugotovite njegove interese;
Pripravite načrt, kako podpreti študenta na poti do njegovega sanjskega položaja, npr. z dodatnim usposabljanjem, dodatnimi nalogami itd.;
Oglejte si priložnosti, da se študent loti neznanih in novih nalog, da omogoči dostop do novih izkušenj, da se osredotoči na prihodnje želje.
Več informacij, predlogov in idej za usmerjanje načrtovanja poklicne poti študenta najdete na naslednjih spletnih povezavah: