Analyse the data collected from the apprenticeship process evaluations and use them for improvements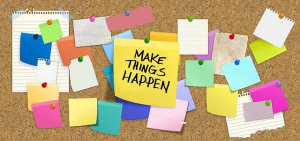 This section highlights the importance of continuous analysis and surveillance of your apprenticeship placement. It explains how you can use it to improve the experience of your current apprentice or those that will undertake an apprenticeship in your company in the future.
As will be further explained under To Watch, analysis of the apprenticeship can be seen from two perspectives.
Firstly, you can analyse and improve the experience of the current apprentice based on weekly meetings.
Secondly, you can look at a longer perspective and improve things for future apprentices.
For this you can get data from different sources – a daily diary,  the final report or any other materials compiled during the apprenticeship can be used.
This video addresses the importance of continuous analysis of your apprenticeship placement and how to use this for improvements:
Mentortrain video 6.2  (duration: 4:31)
If you have previously had apprentices, get a copy of their final evaluation materials and analyse the problems and positives aspects that they describe.

If you do not yet have such evaluation materials, try to acquire some from the educational institutions that might send you apprentices to get an idea of potential challenges apprentices may face.