Analizirajte podatke, zbrane v postopku študentovega ocenjevanja učnega procesa ter na njihovi osnovi sprejmite odločitve in jih implementirajte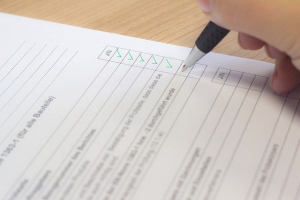 Študenti z mnogih področij preživijo velik čas svojega študija na praktičnem izobraževanju in to predstavlja številne izzive in priložnosti. V tem videu boste izvedeli, kako študenti običajno dokumentirajo svoje dolžnosti in izkušnje ter katere informacije lahko dobite z analizo podatkov. Na primer, lahko vidite, kako so se počutili in ali so bili zadovoljni s celotno izkušnjo. Ali so imeli zahtevane kompetence za delo, ki so ga pričakovali?
Poudariti je treba, da je pridobivanje informacij o pomanjkljivostih dokaj enostavno, vendar je za njihovo reševanje potrebna večja analiza. Kdo bi moral ukrepati in zapolniti vrzeli v kompetencah v prihodnosti, je običajno najpogostejša težava, ki jo je treba rešiti. V nekaterih primerih bi to moralo biti podjetje, ki zagotavlja praktično izobraževanje, vendar ni vedno tako.
Ta videoposnetek opisuje, kako študenti običajno dokumentirajo svoje delo in izkušnje in kako lahko te informacije uporabite kot mentor:
Mentortrain video 6.1  (trajanje: 3:46)
Poiščite učne načrte treh študijskih programov, ki se nanašajo na delovno področje vašega podjetja, in poglejte, kateri vidiki vašega dela so v njem zajeti in kaj manjka. Zastavite naslednja vprašanja:
Ali bi bili študenti, ki prihajajo iz tega študijskega programa, dovolj dobro usposobljeni, da bi delali za vas?
Katere veščine bi manjkale?