Sprejmite študenta v podjetje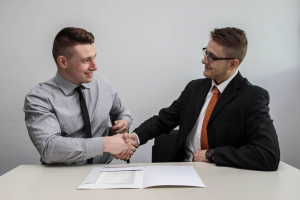 Ta del raziskuje proces uvajanja študenta v podjetje in kako se pripraviti na mentorstvo.
Nekaj ​​ključnih stvari boste morali povedati svojemu novemu študentu, preden začne, da bo postopek uvajanja čim bolj gladek. To vključuje informacije o datumu in uri začetka, dostopu do podjetja, delovnem času, kodeksu oblačenja, zahtevani dokumentaciji itd.
Ko bo prišel dan, ko se bo začel vaš novi sodelavec, se bodo verjetno počutili precej tesnobno. Res je mamljivo, da jim prvi dan zagotovite obilico informacij, vendar poskusite ne pretiravati. Nekatere ključne stvari, ki bi jih lahko pokrili prvi dan, vključujejo predstavitve ekipe, njihovo namestitev na delovni prostor/mizo, seznanitev z njihovim delovnim računalnikom, e-pošto, telefonskim sistemom v podjetju itd. To je lahko tudi pravi čas za seznanite študenta z glavnimi politikami in postopki podjetja ter pisarniškim bontonom.
Uvajanje novih procesov, novega okolja in novih ljudi se lahko pogosto zdi preobremenjeno, zato je lahko koristno, da se s študentom pogovorite o tem, kaj pričakujete, da bo počel vsak dan. Vzpostavitev tedenskega načrta za študenta je lahko še posebej koristna pri upravljanju njihovega (in vašega) časa. Kot vodja ali nadzornik novega študenta je ena najpomembnejših stvari, ki jih lahko storite, obvladovanje pričakovanj – ne le širšega podjetja, ampak tudi lastnih pričakovanj. Že na začetku bodite jasni, kaj pričakujete od njih.
Ta videoposnetek opisuje postopek uvajanja študenta:
Mentortrain video 3.1  (trajanje: 4:23)
Za svojega novega študenta pripravite seznam dokumentov, ki jih bodo potrebovali prvi dan.
Pripravite tudi seznam dokumentov, ki jim jih morate dati, zlasti tistih, ki jih morajo podpisati.
Pripravite svoj kontrolni seznam